I am a natural history expert and own one of the largest collections of real and replica fossils and dinosaur props. I have appeared as expert guest speaker across the World. But my road here has been a rocky one...
Born in Kensington in 1958, I was rejected by my birth mother, was in a number of children's homes and removed from my foster parents before finally being adopted.
At primary school I struggled with dyslexia and dyspraxia but left secondary school with O-levels and settled in a role at a garden centre. I gained further qualifications in horticulture and arboriculture and created my own business PJF Landscapes and Tree Services.  During this period, I met my future wife, we struggled through a difficult divorce, but this relationship gave us two boys.
In 2003, my eldest son made the news with his real dinosaur egg, kickstarting my fascination with the Prehistoric World. I set up Jurassic Landscapes and began buying and selling rocks, fossils, and artefacts.  I set up a dinosaur and fossil exhibition at local museum and carried out my first school workshop which was an amazing success.
The Travelling Natural History Museum evolved whilst simultaneously running my landscape business and bringing up two boys, pushing me to the absolute limits.  Dino Parties emerged from this and brought in an additional income, but this was a third business to juggle. I had to wind down my PJF Landscapes and Tree Services business to focus and nurture these new priorities.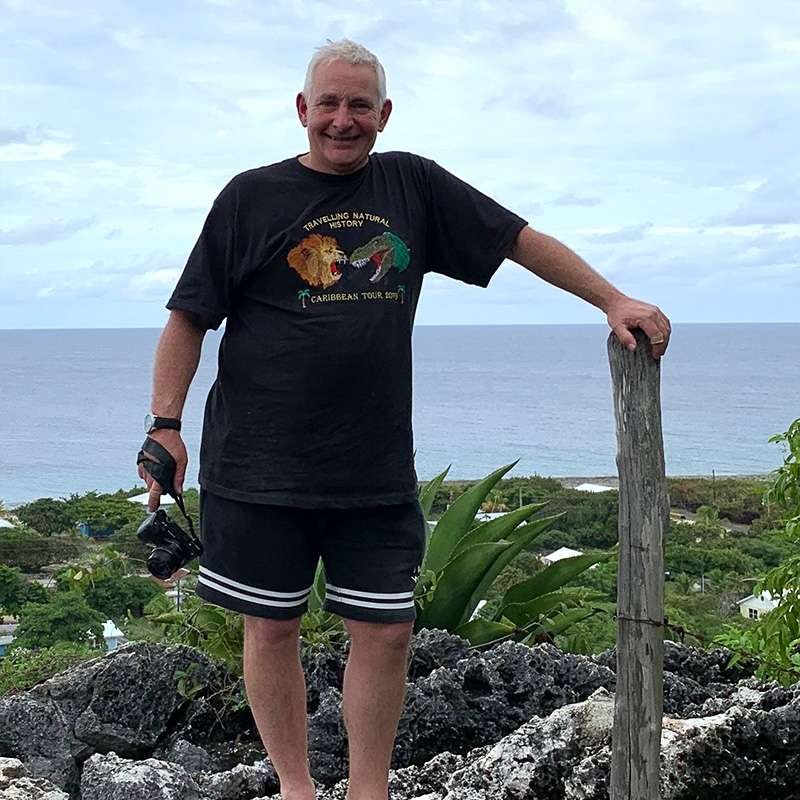 I have now delivered hundreds of public and private events, from talks, educational workshops, and dinosaur parties. I have shared my passion for palaeontology with school children, the public, academics from across the world and even members of the Royal Family.
I have had the honour of being a visiting lecturer at the National Geographic Head Quarters and a guest speaker for The Royal Horticultural Society. I have presented talks and demonstrations for numerous museums and trusts including the Sedgwick Museum of Natural History and Essex Wildlife Trust. I have been interviewed for Sky News, BBC Radio Essex & Yorkshire TV and many more. Furthermore in 2019, I took a tour of the Caribbean, including being a guest speaker at the major scientific conference in the Cayman Islands.
I faced new challenges like Covid and the Energy Crisis and today continue my journey, adapting my business to survive.
If you are interested in my latest talk "My rocky road to success" by Travelling Natural History Expert Peter Ta'Bois please get in touch. My unique, entertaining presentation is 45 minutes to an hour or two thirty-minute sessions and provides a fascinating and informative insight into my life and the world of palaeontology.
Influences
Peter's influences started at an early age when he was given the 1962 Collins book 'The Living World Of Nature In Color'.
Peter's dyslexia meant that at this stage, he struggled to read the book but the pictures brought the natural world to life and created a life long passion for natural history that led him to spend his adult life working with nature in all its forms.
Later in life, David Attenborough's 'State of the Planet' enviromental documentary series spurred Peter to start school workshops to help children understand the importance of looking after their planet for future generations.
At the age of 14, Peter's son bought a fossilised Hadrosaur Dinosaur egg at an auction house.  This led Peter to understand the rarity and importance of such precious items and the need to preserve and protect them for the benefit of science and the public interest.
Contact Us to Book Peter for Public Speaking Today